News story
Foreign Office Minister meets UN Special Advisor on Sport for Development and Peace
Foreign Office Minister Henry Bellingham met the UN Special Advisor on Sport for Development and Peace Wilfried Lemke on 30 August.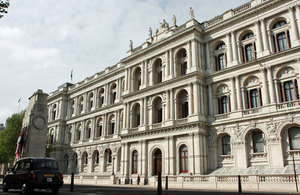 They discussed a range of issues including the work of the UN Office on Sport for Development and Peace, and how the Olympic Truce has been brought to life.
Speaking after the meeting, Mr Bellingham said:
"I was delighted to meet Mr Lemke today, during his visit to London for the Paralympic Games and thanked him for his recognition of the UK's efforts in promoting the Olympic Truce internationally.
"We discussed the importance of ensuring that a firm Olympic Truce legacy remains after the London Olympic and Paralympic Games. I am pleased that the UK has delivered a range of Olympic Truce activities around the world highlighting the Olympic Truce as a key part of our conflict prevention and peace building work.
"I hope the UN Office on Sport for Development and Peace, the International Olympic Committee, the UK and other UN Member States will continue to promote the Olympic Truce as a means of educating people about conflict prevention."
Published 30 August 2012