Foreign Office Minister meets Palestinian Paralympians
Minister for the Middle East Alistair Burt welcomed the Palestinian Paralympic delegation to London on 30 August.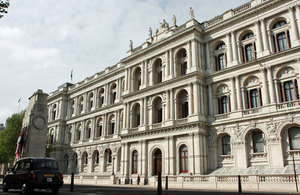 The two athletes and accompanying delegation were given a tour of the Foreign Office building and around Parliament.
Speaking after the event, Mr Burt said:
"I was delighted to formally welcome Mohammed Fannouna and Khamis Zaqout to London and to the Paralympic Games. They have overcome considerable obstacles just to compete here, and I would like to pay tribute to the dedication and determination that has been shown by them, their coaches and the Palestinian Paralympic Committee - led by Akram Okkeh - despite the difficulties they have faced.
Their stories are genuinely inspiring, and their achievements all the more impressive for being made with such limited resources and facilities. I wish them every success in the Paralympics, and will be following their progress with interest."
Published 30 August 2012