Foreign Office Minister meets Lord Bates following his Walk for Truce
Minister for Conflict Issues Henry Bellingham met with Lord Bates on 29 February to discuss his Walk for Truce across Europe. Watch our video to find out more about the Walk for Truce.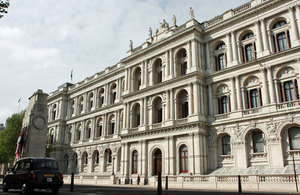 Following his 3000 mile walk across Europe to raise awareness of the UN resolution on the Olympic Truce, Lord Bates met with Mr Bellingham to discuss his journey. In the film below Lord Bates discusses the Walk for Truce.
As hosts of the 2012 Olympic and Paralympic Games, the UK sponsored the Olympic Truce resolution in October 2011, which was passed with a record breaking co-sponsorship by all 193 UN Member States. The resolution asks all Member States to promote the ideals of the Olympic Truce by building a peaceful and better world through sport and the Olympic ideal.
The FCO has used the Truce to promote conflict resolution across the world in a number of ways, including promoting children's rights in Ecuador and using sport to reduce gang violence in the Caribbean.
Following the meeting, Mr Bellingham said:
"I was fascinated to hear about Lord Bates' Walk for Truce across Europe. The Olympic Truce is a very important way to promote conflict resolution and I applaud Lord Bates for his extraordinary efforts to raise awareness of the resolution."
Published 1 March 2012