Foreign Office Minister meets leader of the Turks and Caicos Islands opposition party
Minister for the Overseas Territories Henry Bellingham met with Doug Parnell, Leader of the People's Democratic Movement of the Turks and Caicos Islands.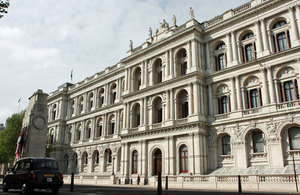 The Minister welcomed Mr Parnell's engagement in the consultation process on constitutional and electoral reform and outlined the next steps in the process. A draft revised constitution will be produced shortly for further consultation in the territory before a new constitution is finalised. There would be no direct negotiations with political representatives as took place before the 2006 constitution was agreed.
The Minister also made clear that the new constitution must enable the necessary reforms to ensure good governance and sound public financial management are firmly embedded in the Turks and Caicos Islands.
On the timing of the elections, the Minister said that the UK Government will need to be satisfied that the necessary reforms have been put in place to address the issues raised by the Commission of Inquiry, to prevent such maladministration being repeated and to engender the confidence of the international community.
The Minister confirmed that on 3 February the Department for International Development informed Parliament of its intention to provide a guarantee to the TCI Government (TCIG). This will enable TCIG to secure new commercial bank lending to refinance existing debt and to cover further projected deficits over the next two years before TCIG restores its budget to balance. The success of the financial package depends on the implementation of austerity measures and sound public financial controls.
The Turks and Caicos Islands (TCI) are one of 14 British Overseas Territories. Parts of TCI's constitution were suspended in August 2009 following a Commission of Inquiry report into allegations of corruption by TCI ministers which pointed to a high probability of systemic corruption in the government and legislature of TCI. The Governor now has charge of matters of government subject to instruction by the Secretary of State.
This was a serious constitutional step which the Government did not take lightly. These measures were essential in order to restore the principles of good governance and sound financial management.
A range of UK Government funded advisers are now in place to offer support and guidance to the Governor and to the public service.
An Advisory Council and Consultative Forum have been appointed by the Governor. They have ensured that the voice and views of the people of TCI continue to be heard.
Published 8 February 2011