Foreign Office Minister meets Egyptian religious leaders
Foreign Office Minister Alistair Burt met Head of the Anglican Church for the Middle East and North Africa Region Rev. Dr. Bishop Mouneer Hanna and Grand Mufti of Egypt Shaikh Ali Gomaa.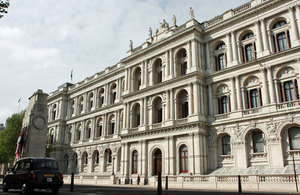 Speaking after the meeting the Foreign Office Minister said:
"I warmly welcome this highly symbolic joint visit of senior representatives from the Muslim and Christian faiths in Egypt - the first such visit to the UK. Today we agreed that it is vital to promote co-operation between faith groups, mutual understanding and tolerance based upon shared values. We shared concerns about the deeply regrettable sectarian violence that has occurred recently in Egypt and the wider region. I applaud the Bishop and the Grand Mufti in their efforts to tackle this".
Published 21 July 2011