Foreign Office Minister marks the lighting of the Olympic flame
Earlier this morning the Olympic Flame was lit by the rays of the sun in an hour long traditional ceremony at the Temple of Hera, in the Ancient Stadium in Olympia, where the first Ancient Olympic Games took place.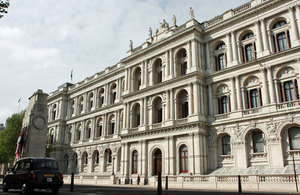 The Olympic Flame will then make its way around Greece on an eight day relay, stopping in a range of cities and islands including Crete, Piraeus, Thessalonica, and other towns. On 17 May, the Flame will arrive in Athens for the Olympic Flame Handover to London 2012. HRH The Princess Royal will lead the UK Delegation, which will also include Chair of LOCOG Lord Coe, and Sport and Olympics Minister Hugh Robertson.
From Athens, the Olympic Flame will begin its journey to the UK, arriving into Royal Naval Air Station Culdrose in Cornwall on 18 May.
Foreign Office Minister for the Olympics Jeremy Browne said:
"Today is an exciting reminder that we are getting ever closer to the opening ceremony of the 2012 Olympics Games. The historic route of the Olympic Flame shows how the Olympics unites people and countries, and we are looking forward to welcoming the world this summer. The arrival of the Torch in the UK on 18 May will generate excitement throughout the country as we head towards the opening ceremony on 27 July."
Published 10 May 2012