Foreign Office Minister in Lebanon
Continuing his visit to the region, the Minister for the Middle East Alistair Burt arrived in Lebanon today for a two day visit.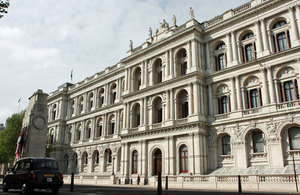 Speaking about the visit, Mr Burt said:
"This is my first visit to Lebanon. I look forward to meetings with Lebanese officials to relay the UK's strong commitment to an independent and secure Lebanon, support to UNSCR 1701 and the UK's commitment to the Middle East Peace Process and a two-state solution."
During his time in Lebanon, Mr Burt will also have the opportunity to hear from economists and businessmen, former Chevening scholars and fellows on how Lebanon and the UK can work together for a more prosperous and secure future.
This is Mr Burt's first visit to Lebanon and the first by a Minister of the new Government.
The visit follows Mr Burt's visit to Syria where he was able to call on His Excellency Walid Muallem, Minister of Foreign Affairs and His Excellency Mohammad Abed Al-Sattar Al-Said, Minister of Religious Endowments.
Published 13 July 2010