Foreign Office Minister: "IAEA board resolution sends clear message to Iran"
The International Atomic Energy Agency (IAEA) yesterday passed a resolution calling on Iran to cooperate urgently with the IAEA on its disputed nuclear programme.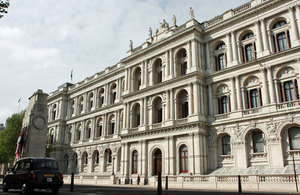 The resolution was sponsored by the five permanent members of the UN Security Council, plus Germany, (P5+1) and received overwhelming backing from the countries on the IAEA Board.
Welcoming the resolution Minister for the Middle East Alistair Burt, said:
"I welcome the International Atomic Energy Agency's Board of Governors' Resolution adopted yesterday.
"The IAEA's latest report confirmed that Iran is expanding its uranium enrichment capacity in direct contravention of IAEA Board and Security Council resolutions, and that it is failing to cooperate with the Agency to address the possible military dimensions of its nuclear programme. These facts provide no assurance of Iran's stated peaceful intentions. The overwhelming support for the IAEA Board's Resolution yesterday sends a clear message to Iran about the international community's determination that Iran must now urgently address the serious concerns about its nuclear programme.
"We seek a negotiated solution with Iran. The P5+1 continues to pursue negotiations with Iran in good faith. The onus is on Iran to take concrete steps to co-operate fully with the Agency and comply with all its international obligations. Until it does, the international pressure on Iran will only increase."
Published 14 September 2012