Foreign Office Minister expresses disappointment over Sudanese President's visit to Chad
Minister for Africa Henry Bellingham has expressed disappointment after Sudanese President Bashir visited Chad in defiance of an International Criminal Court arrest warrant.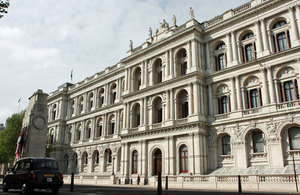 "I am disappointed that the Government of Chad decided to host President Bashir of Sudan on 8 August. This was in defiance of the arrest warrants issued by the International Criminal Court (ICC) for war crimes, crimes against humanity and genocide.
"Chad is an ICC State Party. ICC States Parties are obliged to cooperate fully with the ICC, and I reiterate the importance that the British government places on these obligations.
"The British government is a strong supporter of the work of the ICC as an independent judicial body. All countries should cooperate with the ICC investigations in accordance with UN Security Council Resolutions, and the particular legal obligations of States Party to the ICC."
Published 10 August 2011