Foreign Office Minister expresses concern over political tensions in Iraq
Minister for the Middle East Alistair Burt held a telephone call with Iraqi Foreign Minister Hoshyar Zebari to express concern over political tensions in Iraq.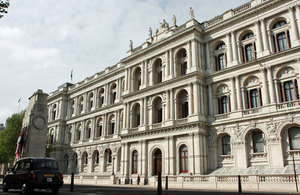 Speaking after the call he said:
"I spoke today with the Iraqi Foreign Minister, Mr Hoshyar Zebari. In addition to a discussion on Syria and the situation at Camp Ashraf, I said we were closely following the current political situation in Iraq.
"On political developments in Iraq, we agreed the latest political tensions were of concern. All parties needed to work to resolve their differences peacefully through meaningful dialogue and compromise. I said the UK stood ready to offer its support.
"I welcomed the support the Iraqis are giving to Arab League efforts to end the violence in Syria. We agreed that action was now needed to turn the Arab League's initiative into reality and to maintain pressure on the Syrian government.
"Concerning Camp Ashraf, Mr Zebari confirmed that despite a lack of cooperation from the leadership of Camp Ashraf, the Government of Iraq had shown flexibility and was working with the UN to find a satisfactory outcome to the situation. I agreed with Mr Zebari that it was difficult issue and welcomed his assurance that no harm would come to the residents of Camp Ashraf."
Published 20 December 2011