Foreign Office Minister delighted by appointment of Fatou Besouda as ICC Prosecutor
Foreign Office Minister Henry Bellingham has spoken following the appointment of Ms Fatou Bensouda as the next International Criminal Court Prosecutor, an appointment that the UK supported.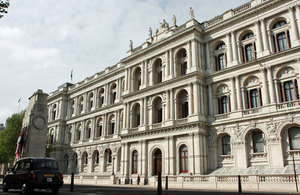 Following the election Foreign Office Minister Henry Bellingham said:
"I am delighted that the States Parties of the International Criminal Court have agreed by consensus that Ms Fatou Bensouda should be appointed the next Prosecutor of the ICC.
"Ms Bensouda is an outstanding choice to take on the key role as head of the ICC's Office of the Prosecutor (OTP) in July 2012. In her current role as Head of the OTP's Prosecution Division, she has demonstrated to States Parties that she has the experience and skills required to take forward the ground-breaking work that her predecessor, Luis Moreno-Ocampo, has achieved in breaking the cycle of impunity for those who have committed some of the most serious crimes of international concern.
"The United Kingdom supported Ms Bensouda for this position, and her election by consensus is a clear demonstration that, although her role is fully independent, she will have the full support of all States Parties when she takes office next July."
Published 12 December 2011