Foreign Office Minister deeply concerned at Pussy Riot verdict
Foreign Office Minister Alistair Burt said he was deeply concerned after three members of the Russian punk band Pussy Riot were sentenced to two years in prison.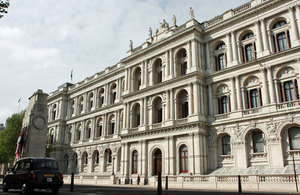 He said:
"I am deeply concerned by the sentencing of three members of the band Pussy Riot, which can only be considered a disproportionate response to an expression of political belief. Reports about conditions of the detention of the women, and the conduct of the trial, are also concerning.
"The Government is committed to a relationship with Russia in which we can discuss differences frankly and constructively. We have repeatedly called on the Russian authorities to protect human rights, including the right to freedom of expression, and apply the rule of law in a non-discriminatory and proportionate way. Today's verdict calls into question Russia's commitment to protect these fundamental rights and freedoms."
Published 17 August 2012