News story
Foreign Office Minister condemns recent violence in Bangladesh
Senior Foreign & Commonwealth Office Minister Baroness Warsi underlines UK concerns over ongoing violence in Bangladesh and urges all sides to exercise restraint.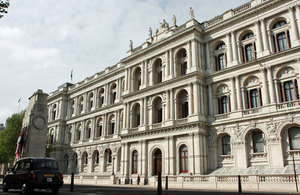 Speaking today following continuing reports of violence Baroness Warsi said,
"The strength of democracy is the right it affords to all citizens to participate in the political process. I am appalled by the recent violence, unnecessary deaths and vandalism that have blighted Bangladesh recently. It has no place in legitimate protest. I am clear in our condemnation of the violence and we have also called on the Government to investigate reports of deaths and use of excessive force by the police. We have also pressed all parties to exercise restraint and respect the rule of law. We will continue to monitor the situation.
"During my recent visit to Bangladesh, I discussed the volatile situation with Prime Minister Sheikh Hasina and opposition leader Khaleda Zia and highlighted the concerns of the international community, including those of many of the British Bangladeshi community in the UK. It is important to understand how strikes and violence have a widespread impact on businesses, families and communities, including religious minorities."
Further information
Published 13 March 2013