Foreign Office Minister condemns executions in Iran
Foreign Office Minister Alistair Burt has commented on the execution of ten people in Iran on 22 October.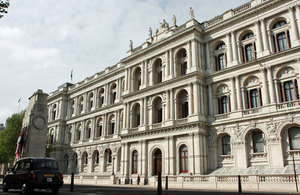 "I condemn the execution of 10 people on 22 October in Iran on drugs charges. The UK strongly opposes the use of the death penalty in all circumstances and there are serious concerns - raised by respected actors across the world - that these individuals did not receive a fair trial and were tortured in custody.
Today the UN Special Rapporteur on the human rights situation in Iran, Dr Ahmed Shaheed, will present a chilling account of torture and executions in Iran. This shines a light on an appalling situation of which the executions on 22 October are only the most recent reminder and against which the international community has repeatedly spoken out. I again call on Iran to engage fully with the international community on improving its human rights record, to impose a moratorium on its use of the death penalty, and to fully comply with Iran's own laws and constitution".
Published 24 October 2012