Foreign Office Minister condemns bomb attack in Somalia
Minister for Africa Henry Bellingham has condemned the attack in Mogadishu. At least 65 people are reported to have been killed.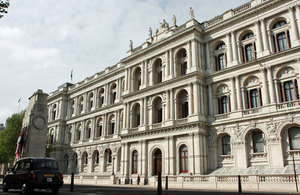 Speaking today the Foreign Office Minister said:
"I strongly condemn today's callous attack by Al Shabaab in Mogadishu, which has cost so many lives. On behalf of the UK, I offer my deepest condolences to the families and colleagues of the innocent people who have lost their lives, and to the Transitional Federal Government of Somalia.
"The shocking brutality of this attack is demonstrated by the fact that many of the victims were students and parents awaiting the results of scholarships for the Ministry of Higher Education.
"It comes at a time when the country should be coming together, both to deliver political progress and to bring aid and relief to those facing famine across the country."
Published 4 October 2011