Press release
Foreign Office Minister concerned by violence in Saida, Lebanon
Alistair Burt offers condolences to families of those killed and reiterates support for Lebanese Armed Forces.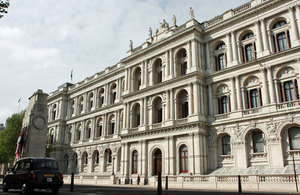 Commenting on events in the southern Lebanese city of Saida, Foreign Office Minister for the Middle East Alistair Burt said:
I am very concerned about the violence in Saida including the deaths of a number of members of the Lebanese Armed Forces. I would like to offer condolences to the families of those who have died and to reaffirm our strong support for the Lebanese Armed Forces in their efforts to maintain the country's hard-won peace. I urge all parties in Lebanon to back the security forces, to abide by the policy of disassociation from the Syria conflict, and to reach an early agreement on a new consensus government able to lead Lebanon through the challenges it now faces.
Further information
Visit the UK in Lebanon website pages
Follow Foreign Office Minister Alistair Burt on twitter @AlistairBurtFCO
Follow the Foreign Office on twitter @foreignoffice.
Follow the Foreign Office on facebook and Google+.
Subscribe to the announcements feed or email alerts to get our latest news and announcements.
Published 25 June 2013