Foreign Office Minister concerned by violence in Egypt
Minister for the Middle East and North Africa Alistair Burt has called on all involved to show maximum restraint following violence in Cairo.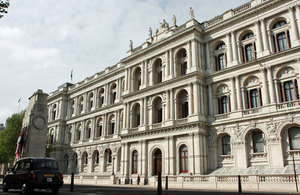 Speaking today the Foreign Office Minister said:
"I am deeply concerned by the recent violence in the Abbasiya district of Cairo and resulting loss of life. I call on all those involved to show maximum restraint in order to avoid further bloodshed. The right to peaceful freedom of expression and assembly is integral to Egypt's transition to democracy, and it is crucial at this stage of the Presidential election process that it is not threatened by the return of such violence.
"Such unrest reinforces the need to make progress on the transition to civilian rule, through a transparent and inclusive process which allows all voices to be heard, to the timetable already agreed by the Egyptian authorities.
"The British Government has made clear that the outcome of the transition is for the Egyptian people to decide. But to meet their aspirations it should lead to a legitimate and democratic government, underpinned by strong state institutions which are accountable to the people, and a constitution that guarantees and protects the rights of all Egyptians. A free press and vibrant civil society remain crucial elements of this transition."
Published 3 May 2012