Foreign Office Minister concerned about situation in Egypt
Foreign Office Minister Alistair Burt said that if the Government has anything to do with the violence then it should be "stopped and stopped instantly".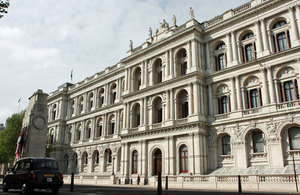 Foreign Office Minister Alistair Burt has been talking about the political and consular situation in Egypt in a range of media interviews today.
Discussing the violent protests the Minister for the Middle East and North Africa said:
"The scenes are unacceptable. With this sort of violence going on you don't have the space that's needed for the political discussions between those who are representing protestors and, and representatives of the Government to stop the violence and start the process leading to reform as quickly as possible."
"If there has been any orchestration by Government forces it should stop because what has been a peaceful demonstration of legitimate concerns about, about political rights has turned in to something very different"
The Foreign Office Minister said that talks between opposition parties are needed to ease the tensions and find some way quickly to lead to people feel secure, because they know an unstoppable process to democracy is in place.
The Foreign Office advise against all but essential travel to Cairo, Alexandria, Luxor and Suez. When asked about the safety of the Red Sea resorts the Foreign Office Minister said:
"There's no evidence that there's anything in the Red Sea resorts which would lead to concern. Food is getting through, the cash machines are full. The moment anything changes to indicate there is a risk to people there, then we shall move. But we believe we should work on the evidence of that."
The Foreign Office has charted a second plane due to leave Cairo on Saturday to enable British nationals who wish to return home to do so.
Published 3 February 2011