Foreign Office Minister comments on violence in Malawi
Foreign Office Minister Henry Bellingham: "I call on President Mutharika to rein in the security forces and elements of his party, and to allow the media to report freely on the situation in the country."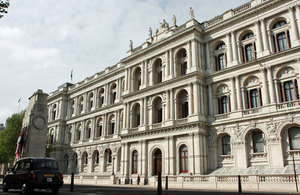 Commenting on the ongoing violence in Malawi, Minister for Africa, Henry Bellingham, said:
"The ongoing violence and reprisals by elements connected to President Mutharika's Democratic Progressive Party underline the concern that the UK has expressed about the state of democratic governance and human rights in Malawi. This situation is extremely worrying and I offer my sincere condolences to the families of those who have lost their lives. I urge all parties to show restraint.
"The rights of free assembly and expression guaranteed under the Malawian Constitution must be respected. The UK utterly condemns the threatening behaviour of machete wielding DPP activists and the violent attacks on demonstrators and the media. I call on President Mutharika to rein in the security forces and elements of his party, and to allow the media to report freely on the situation in the country. Any attacks or reprisals against demonstrators, opposition leaders or the media are absolutely unacceptable."
Published 21 July 2011