Foreign Office Minister comments on tenth anniversary of the arrest of Eritrea's 'G11'
Minister for Africa Henry Bellingham: "On this solemn anniversary I offer my solidarity to all those Eritreans engaged in the struggle for human rights."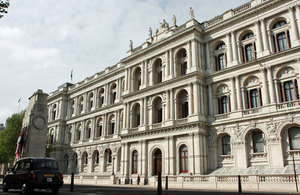 Minister for Africa, Henry Bellingham, said:
"Ten years ago today, freedom in Eritrea was dealt a blow from which it is still to recover. On the 18th and 19th of September 2001, eleven of Eritrea's leading progressive voices were arrested after calling publicly for democratic reforms. They comprised ministers, generals and senior officials, prominent public figures and heroes of Eritrea's liberation struggle: Ogbe Abrha, Astier Feshatsion, Berhane Ghebre Eghzabiher, Beraki Ghebreslassie, Hamad Hmd, Saleh Kekya, Germano Nati, Estifanos Seyoum, Mahmud Ahmed Sheriffo, Petros Solomon and Haile Woldensae.
"A decade later, the eleven remain in prison, without charge or trial. No official information has been made available on their whereabouts or condition. It has been reported that many may have died in detention.
"On this solemn anniversary I offer my solidarity to all those Eritreans engaged in the struggle for human rights. In particular, I stand with the families and supporters, and the eleven themselves, who remain incarcerated after so many years. I urge the Government of Eritrea to afford these men and women, and all those Eritreans imprisoned for their beliefs, the rights guaranteed them by the Constitution of Eritrea: the right to human dignity, to fundamental freedoms, and to legal due process."
Published 19 September 2011