Foreign Office Minister attends youth event on Arms Trade Treaty
Ahead of the UN Conference, Foreign Office Minister Alistair Burt met with Amnesty International and Oxfam youth activists to set out the UK's vision for the Arms Trade Treaty.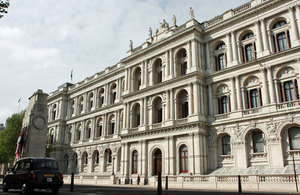 The event was organised by the Control Arms Coalition and followed on from the success of a similar event in 2009. More than 150 students from school and university groups discussed the need for a robust treaty which, for the first time would globally regulate controlling the arms trade. Mr Burt also spoke today at a seminar on the Arms Trade Treaty organised by the British Red Cross. The UK is working closely with civil society, including NGOs, the British defence industry and organisations like Amnesty and the British Red Cross. Their expertise and knowledge has helped inform the UK's position.
Mr Burt said:
"The unregulated trade in conventional arms feeds conflict and undermines peace and security. Since 2006, the UK has been at the front of a global effort to introduce more effective and coherent international regulation of that trade.
"With less than two weeks to go to the start of the negotiations in New York, the Government remains committed to securing a robust, effective and legally-binding Arms Trade Treaty. Over the past six years, we have worked closely with NGOs like Amnesty International and Oxfam to achieve that aim. Events like today's are particularly important because they give the Government the opportunity to hear what is important to those who share our vision for what an Arms Trade Treaty could achieve."
You can listen to Mr Burt's interview with an Amnesty youth activist below.
listen to 'Robin from York University quizzes Foreign Office Minister Alistair Burt' on Audioboo
Published 21 June 2012