Foreign Office Minister arrives in Egypt
Minister for the Middle East and North Africa Alistair Burt has arrived in Egypt for a two day visit to the country.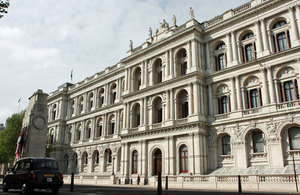 During this visit Mr Burt will have meetings with members of the Egyptian Parliament and Nabil Al Arabi, Secretary General of the Arab League.
Speaking on arrival, Mr Burt said:
"I am delighted to be back in Egypt at this critical stage in its transition to democracy. I am pleased to see a clearer path set out towards presidential elections and a new constitution, and look forward to meeting representatives of the recently elected Parliament. Egypt is a key partner for the UK and the region, and we are committed to supporting the transition. We also firmly believe in the potential of the Egyptian economy, and I welcome the first tentative signs of economic recovery. I look forward to meeting businesses during my visit to hear of their plans for investment in the Egyptian market.
"I also look forward to discussing pressing foreign policy matters, including how the UK can best support Egyptian and Arab League efforts to bring an end to the terrible violence and repression in Syria".
Published 12 March 2012