Foreign Office Minister Alistair Burt visits United States
Foreign Office Minister Alistair Burt is visiting counterparts and key contacts in Miami, Florida before heading to Washington, DC.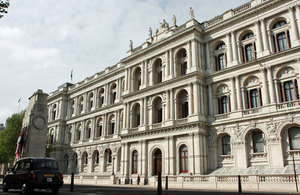 The Minister is the Foreign and Commonwealth Office's lead on a wide range of issues including the Middle East and North Africa, Afghanistan and Pakistan, counter-terrorism and counter-proliferation, and North America.
Alistair Burt visits Miami
While in Miami, he will see Florida Governor Rick Scott and Miami-Dade Mayor Carlos Gimenez, Coral Gables Mayor John Cason, meet with key trade and investment partners, participate in a lunch with the American Jewish Committee (of Greater Miami and Broward) and officially open the British Consulate-General in Miami's refurbished offices.
In Washington, Foreign Office Minsiter Alistair Burt will meet with his counterparts in at the State Department and National Security Council as well as meet with key members of Congress from both the House and Senate. In addition, he will see prominent Jewish groups including the American Israeli Political Action Committee (AIPAC) and J Street.
Published 11 July 2011