Foreign Office Minister Alistair Burt addresses energy security in Houston
British Foreign Office Minister Alistair Burt delivered a keynote address on energy security at a World Affairs Council luncheon at the Federal Reserve Bank in Houston.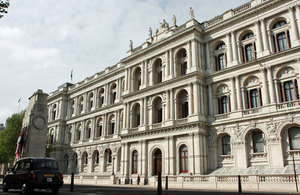 The speech addressed the Middle East, the UK's engagement and perspective on the Arab awakening in Tunisia, Libya, Syria and Egypt, Iran and the impact of recent events on energy security.
Foreign Office Minister Alistair Burt said:
"Global trends in energy consumption cannot be ignored and the Middle East has a vital role to play in ensuring a stable and secure supply of energy to the world market. Recent IEA figures predict that unchecked global demand for energy would reach over 17 billion tonnes of oil equivalent by 2030, an increase of 40% on current production. Meeting this demand, while simultaneously tackling the challenges climate change, is one of the great tests of our time. That we need a stable and affordable energy supply is beyond question. How we achieve it is the key. The Middle East has always played a leading role in meeting global energy demand and this is not going to change. Production of traditional hydrocarbons needs to increase, and countries like Iraq and Libya are leading the way. The oil and gas sectors in these countries should be the lifeblood that drives economic regeneration, not only within their borders after so many years of oppression, but across the global economy."
"But this will not be the only change we see in the energy sector. The industry as a whole is transforming rapidly and profoundly. Technological innovation is creating new opportunities in unconventional hydrocarbons and renewable energy resources. The rejuvenation of domestic gas production in the US through your investment in unconventional technologies has transformed the global energy outlook. Similar developments in renewable technologies like wind, solar and biofuel are changing the global energy mix. Traditional hydrocarbons will continue to be important, but their supply will become more diffuse and demand will move away from the historic hubs in Europe and the US."
"So the Arab World is at a turning point. Political reform is sweeping the region; the economic certainties of its energy wealth are in flux. Western countries need to recognise how their relationship with the Middle East and North Africa is changing and maturing. As new energy sources develop and the demand from the East increases, our relationship will be based less on the one-way supply of oil, and more on mutual economic benefit, trade and exchanges."
In addition to the speech, Alistair Burt met with key executives from across the energy industry to discuss current energy security issues. He was also interviewed for NPR's Bauer Business Report on KUHT Houston Public Radio and The Wall Street Journal.
Published 2 February 2012