Foreign Office marks World Day Against the Death Penalty
The FCO is hosting an event on the World Day Against the Death Penalty. FCO staff around the world are marking the day, and you can also listen to our latest human rights podcast on the death penalty.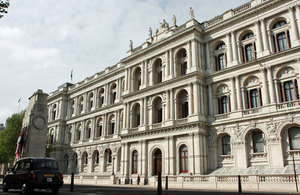 This year's event for World Day Against the Death penalty highlights the importance of minimum standards in the application of the death penalty. EU minimum standards include, inter alia, imposing the death penalty only for the most serious crimes and not executing those who are pregnant, who have become insane, or those who are below the age of 18 at the time of the crime.
Speakers include FCO Minister of State Jeremy Browne MP, Professor Nigel Eastman, a Consultant Forensic Psychiatrist and Professor at the University of London, and Saul Lehrfreund, one of the co-founders and joint Executive Directors of The Death Penalty Project.
The Minister is also meeting with Eastlea Amnesty Youth Group. The group has been campaigning this year on the case of Sakineh Ashtiani, who is facing the death penalty in Iran, and they have created a campaign to end stoning in Iran.
World Day Against Death Penalty
To mark the day, we have published the next episode in our human rights podcast series. Chaired by the FCO's Head of Human Rights Louise de Sousa, this focuses on the theme of minimum standards on the use of the death penalty, as well as opportunities for future action on the death penalty. Participants include Professor Roger Hood from the University of Oxford, Baroness Vivien Stern, Chair of the All Party Parliamentary Group for Abolition of the Death Penalty, and Jacqueline Macalesher from Penal Reform International. Listen to or download the podcast via our website or iTunes.
Published 10 October 2011