Foreign Office marks International Day of Persons with Disabilities
Foreign Office staff are taking part in a range of activities to mark the day on 3 December, as the UK prepares to host the Paralympic Games in 2012.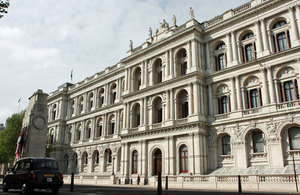 FCO Minister for the Olympics & Paralympics Jeremy Browne commented on the UK's plans to make these the most inclusive Games ever.
Speaking to mark the day, the Minister said:
"As the Minister at the UK Foreign and Commonwealth Office with responsibility for the Olympic and Paralympic Games, I am delighted that the UN International Day of Persons with Disabilities on 3 December 2011 will be taking as its theme "Together for a better world for all: Including persons with disabilities in development"
"This inclusiveness is something that the UK, as host nation for the 2012 Olympic and Paralympic Games, and the London Organising Committee for the Olympic and Paralympic Games (LOCOG), sees as an essential part of London 2012.
"The UK is committed to hosting the most accessible Games ever and London 2012 is the first Games where the planning and organisation of the Olympics and Paralympics has been fully integrated. Disability access has been incorporated into the design and structure of the buildings, open spaces and public transport for 2012.
"So as the UN uses 3 December 2011 to encourage the inclusion of disabled people in development initiatives, I hope that London 2012 will likewise encourage inclusion to be at the heart of planning for major sporting and cultural events for years to come."
Foreign office embassies and high commissions from Asia to Africa are marking the day with a diverse range of events and activities.
In Pretoria Paralympian Natalie du Toit - the swimmer who, in 2008, became the first athlete to carry their nation's flag at the opening ceremony of both the Olympic and Paralympic Games in Beijing - has been invited to speak with a group of children about how she is preparing for London 2012.
Meanwhile, our post in Dakha has organised a 'walkathlon'with the local Bangladesh Olympics Association and disability groups.
Our team in Zagreb will participate in a Paralympic School Day at a local primary school organised by the Croatian Paralympic Committee. The Deputy Ambassador will speak to children about Paralympic Games in London and participate in Paralympic Sport activities.
Published 3 December 2011