Foreign office launches new podcast series on human rights
The first episode in our new audio series focuses on freedom of expression in Burma, featuring excerpts from the film 'This Prison Where I Live' and interviews with Director Rex Bloomstein.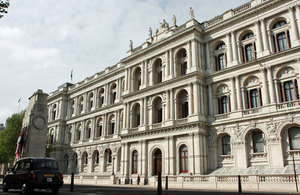 Supporting human rights, democracy and good governance around the world is central to the Foreign Office's work.
Our new series of human rights podcasts will explore a range of issues such as the death penalty, as well as focusing on the situation in specific countries where we have particular concerns.
In the first podcast of the series, film Director Rex Bloomstein talks to us about political prisoner Zarganar, a fierce critic of the regime in Burma and the country's most popular comedian.
He tells us about Zarganar's remarkable character and his ongoing battle for freedom of speech, and the challenges of making 'This Prison Where I Live' to tell his story.
The podcast is available listen to below or you can download via our website or iTunes.
On 15 September, the FCO will host a screening of 'This Prison Where I Live'. Places are first come first served.
To attend, become a fan of the Foreign Office News on Burma Facebook page and view the event details and instructions.
Human rights: This Prison Where I Live by Foreignoffice on Mixcloud
Published 14 September 2011