News story
Foreign Office launches International Criminal Court (ICC) strategy paper
The Foreign Secretary has launched an International Criminal Court strategy as part of UK's continued commitment to international justice.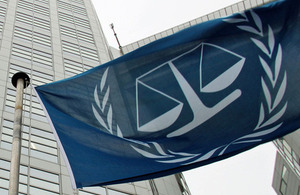 Commenting on the launch of the ICC strategy paper the Foreign Secretary William Hague said:
Today is World Day of International Criminal Justice. I take this opportunity to reiterate the Government's strong support to global efforts to tackle impunity and bring those responsible for the most serious crimes of international concern to justice. As part of this work I am pleased to announce that we have today launched a new strategy to support the work of the International Criminal Court (ICC).
The UK was at the forefront of international efforts to establish the ICC, and we have remained a vocal supporter of the Court since it was established in 2002. It is widely believed to be the cornerstone of International justice and it is a key step on the path to universal accountability.
We contribute to each of the Courts and Tribunals annually, either through assessed contributions (circa £18m) or voluntary contributions (circa £2.8m in 2011/12). In February 2013 the Foreign Secretary announced an additional £500k to the International Criminal Court's Trust Fund for Victims and a voluntary contribution of £1 million to the Special Tribunal for Lebanon (STL), and a voluntary contribution of £1.4 million to the international component of the Extraordinary Chambers in the Courts of Cambodia (ECCC). We also offer additional support by protecting witnesses and enforcing sentences by holding prisoners in the UK.
In its first ten years the court has had some notable successes but key challenges remain. We want to ensure that the ICC grows stronger and more effective and retains its independence and delivers justice. The ICC strategy paper details what we want to achieve and explains how we will do it.
Further Information
Read more about the ICC's Trust Fund for Victims
Read about the UK's Preventing Sexual Violence Initiative.
The ICC's website
Published 17 July 2013