Foreign Office gives update on human rights in countries of concern
The Foreign Office has published new reporting on the 26 countries of concern featured in Human Rights and Democracy: The 2010 Foreign & Commonwealth Office Report. The quarterly updates cover the period from April to June 2011.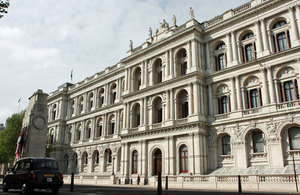 The 2010-2011 Human Rights and Democracy Report is more comprehensive than previous years' and is being hosted online to make it as accessible to the public as possible. It highlights the UK's human rights policies and concerns on key issues, and features 26 countries of concern where the FCO has the most serious wide-ranging human rights concerns.
We are publishing updates every three months on the countries of concern to highlight key human rights events in these countries, and to report on actions that the UK has taken. The latest reporting covering April to June is now available online, including updates on human rights developments in Libya and Syria.
The report is intended to inform Parliament, NGOs and the general public about our work on human rights. This year, for the first time, visitors to the website can read, share, print and comment on the report by section, including individual countries of concern.
Published 20 July 2011