News story
Foreign Office gives update on countries featured in Human Rights and Democracy Report
The Foreign Office has published new reporting on 28 Countries of Concern, along with updates on case study countries featured in the annual human rights report. The quarterly updates cover the period from October to December 2012.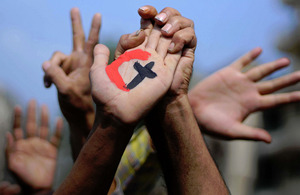 The 2011 Human Rights and Democracy Report is online to make it as accessible to the public as possible. It highlights the UK's human rights policies and concerns on key issues, and features 28 Countries of Concern where the FCO has the most serious wide-ranging human rights concerns.
Every three months, we publish updates on the countries of concern to highlight key human rights events in these countries, and to report on actions that the UK has taken. In addition, as announced by the Foreign Secretary on 30 April 2012, we are now regularly publishing updates on countries featured in the Report as case studies. This quarter, we are publishing updates on Bahrain and Ethiopia. Egypt and Rwanda will be reported on every 6 months. This more flexible quarterly reporting is strengthening the assessments we are making about which countries should be added to or removed from the list of countries of concern in the 2012 Human Rights and Democracy report.
The report is intended to inform Parliament, NGOs and the general public about our work on human rights.
Further information
Read and comment on the updates from October to December 2012 for Afghanistan, Bahrain, Belarus, Burma, Chad, China, Colombia, Cuba, Democratic People's Republic of Korea, Democratic Republic of Congo, Eritrea, Ethiopia, Fiji, Iran, Iraq, Israel, Libya, Occupied Palestinian Territories, Pakistan, Russia, Saudi Arabia, Somalia, Sri Lanka, South Sudan, Sudan, Syria, Turkmenistan, Uzbekistan, Vietnam, Yemen and Zimbabwe.
Read, print, search, share and comment on Human Rights and Democracy: the 2011 Foreign & Commonwealth Report
Follow us on Twitter: @FCOHumanRights hashtag #hrdreport
Published 23 January 2013