Foreign Office commemorates UN International Day of Peacekeepers
The day takes place each year on 29 May, to pay tribute to all the men and women who have served and continue to serve in UN Peacekeeping operations. FCO Minister for the UN, Henry Bellingham, marked the day with a statement.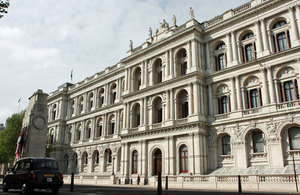 Mr Bellingham said,
"On this International Day of Peacekeepers, the world takes time to remember the sacrifice made by so many in the cause of peace.
"Today, in Africa, the Middle East, the Caribbean and Asia, over 120,000 people from over a hundred countries are serving in UN peacekeeping missions, putting their lives on the line daily in order to prevent conflict.
"The UK remembers the loss of so many lives over the years, and continues to support the essential efforts of UN peacekeeping to achieve peace, security and stability."
This year's International Day of Peacekeepers marks the 63rd anniversary of the deployment of the very first UN peacekeeping mission. The United Nations Truce Supervision Organization (UNTSO) was deployed to monitor the ceasefire after the 1948 Arab-Israeli War and is still deployed to the region today.
Over the 63 years since the start of UNTSO, a total of 64 missions have been deployed and some 2,900 people from 120 nations have lost their lives in the cause of peace, including 103 British personnel.
Published 29 May 2011