Foreign Office checks in to Foursquare
The Foreign Office is now using Foursquare to keep British nationals up to date with travel information while they are on the move.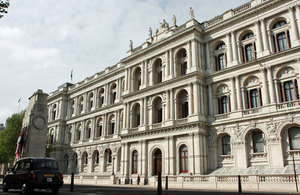 As you travel around the world, you can 'check-in' your location - be it at the airport, train station or tourist attraction - and view 'tips' about the venue you are at or venues nearby.
Follow FCO travel to make sure you receive our latest travel advice tips when you check in at popular venues abroad. The new page will be updated as new venues are added.
In his latest blog, Head of Digital Diplomacy Jimmy Leach said:
"…we'll be using Foursquare to make as many as possible of the 8 million people already on there aware of where our embassies are, for when they need help, and to distribute information where we think it's useful - at airports, major tourist venue and hotspots. And if the last 6 months have taught us anything it is that the sort of advice the Foreign Office produces can be invaluable to British nationals (and others) as they live and travel overseas."
You can read the full blog post here.
Published 20 April 2011