Foreign Office charter flight leaves for Libya
A Foreign Office charter flight is leaving Gatwick Airport at 1230GMT for Libya. It is scheduled to land at Tripoli Airport later today. We are hopeful that the flight will return to the UK this evening.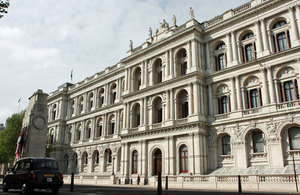 A second flight will leave the UK as soon as possible. Our Embassy in is already in contact with around 300 British Nationals in and around Tripoli and giving instructions on how to catch the flight. Any other British Nationals wishing to leave on this flight should call the Foreign Office helpline on 020 7008 0000.
If you are not registered on the flight and are unable to get through to the FCO helpline, if it is safe to do so, we still recommend you travel to the airport and contact the British Embassy team.
A consular team from the Embassy is already on the ground at Tripoli airport and is in place to assist British Nationals. They will be reinforced by two specialist consular teams. One team has already arrived. Another is on the charter plane from Gatwick. The charter plane will be bringing supplies of food and water for British Nationals at the airport.
The Foreign Office will not charge British nationals for these flights.
Published 23 February 2011