Foreign Office bloggers mark 100 years of International Women's Day
Foreign Office employees around the world are commemorating the centenary of this global day celebrating the economic, political and social achievements of women.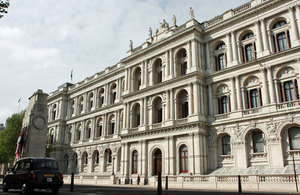 Foreign Office Minister Alistair Burt chose to recognise the role of those women in Iran who are at the forefront of efforts to secure the rights of all Iranians, men and women.
In Ukraine, British Ambassador Leigh Turner writes about 'Ambassadors in high heels', while Charles Lonsdale invites a number of Armenian women to share their thoughts on International Women's Day.
Deputy Consul-General in New York Dominic Meiklejohn is hosting a video piece from Congolese refugee Rose Mapendo and filmmaker Elizabeth Mandel. In Iraq, Ambassador John Jenkins considers what needs to be done to attain true equality of opportunity, and highlights some of the Embassy's work on women's rights.
Ambassador to the Philippines Stephen Lillie invites guest blogger Nassreena Sampaco-Baddiri to talk about how recent events in the Middle East have shown how Muslim women can be leaders in their own right. British Ambassador to Lebanon Frances Guy focused on the situation for women globally, in the country where she works and in Westminster.
British Ambassador Julie Chappell writes about the 'fight for equality and freedom from fear' and discusses the forthcoming elections in Guatemala. In Bolivia, Ambassador Nigel Baker hosted a guest blog from womens rights activist and Director of the Co-ordination of Women Katia Uriona Gamarra.
In his first blog as British High Commissioner to Zambia, Tom Carter asks 'why should we care about the development of women in Zambia?'. Ambassador to the Netherlands Paul Arkwright recalls a moving occasion when he spoke at an event on women's rights in Afghanistan.
Meanwhile, Human Rights Desk Officer Bob Last in Geneva hosts Equality Now's Jacqui Hunt, who highlights the continuing need for mechanisms to address women's inequality. High Commissioner Rob Macaire offers his thoughts on Kenyan women's development and empowerment. Foreign Office Digital Communications Manager Amelia Bate blogs about five inspirational women with a particular focus on human rights.
Published 9 March 2011