Foreign Office appoints two governors to Westminster Foundation for Democracy
Two independent Governors have been appointed to the Board of the Westminster Foundation for Democracy.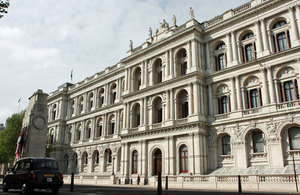 The two new governors started their three year term on 21 February 2010.
The appointed governors are:
Mr John Osmond, independent director, Trustee of Compaid and Justice of the Peace
Ms Bronwen Manby, Senior Programme adviser for Africa, Open Society Foundation
Governors serve for a term of three years, with the possibility of re-appointment for up to two further three-year terms. The appointments are unpaid.
The Westminster Foundation for Democracy (WFD) is a non-departmental public body funded by the Foreign Office. It supports the development of political parties and democratic institutions around the world, working with and through all the Westminster-based political parties, both on a sister party and cross-party basis. It works in Africa, the Middle East, and Asia as well as Eastern Europe and the Balkans.
Published 10 March 2011