Foreign Office announces support for Saudi cultural programme
Foreign Secretary William Hague has announced that the Foreign and Commonwealth Office will become a partner to the Painting and Patronage programme for its 10th anniversary.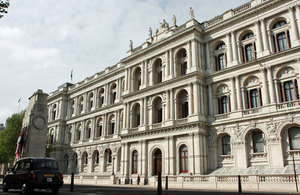 Launched by HRH Prince Khalid Al-Faisal of Saudi Arabia and HRH Prince Charles, Painting and Patronage is a cultural, artistic, educational and trade programme aimed to teach practical skills of art and traditional crafts within the context of a student's social, cultural and religious background as well as the modern multi-cultural environments of both countries.
Speaking ahead of the 10th anniversary the Foreign Secretary said:
"The Painting & Patronage Programme makes an extremely valuable contribution to cultural exchange. It builds bridges of understanding and I am delighted that the Foreign Office will be part of this."
The principal aim and activity of Painting & Patronage is to build and foster valuable bridges of cultural, artistic and educational understanding between the Arab world and the international community. It does this through its core activities of organising exhibitions, summer schools, community outreach programmes and post graduate scholarship programmes. Through doing so, the initiative aims to establish a higher and deeper level of appreciation and understanding of each other's distinct and diverse cultures and traditions.
Published 4 October 2010