Foreign Office and Cayman Islands sign new fiscal responsibility framework
Foreign Office Minister Henry Bellingham said the signing of the framework is a clear sign of Cayman Island Government's commitment to strengthening public financial management and economic planning.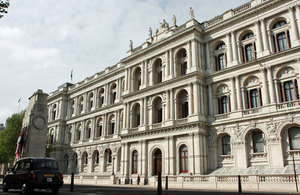 The Foreign Office Minister for the Overseas Territories and the Hon McKeeva Bush OBE, Premier of the Cayman Islands and Minister of Finance, Tourism and Development in London, today signed a Framework for Fiscal Responsibility for the Cayman Islands.
The Framework demonstrates the Cayman Islands Government's (CIG) commitment to prudent and transparent fiscal management through effective medium-term planning and putting value for money considerations at the heart of CIG decision making. It also includes a commitment to effective risk management and delivering improved accountability in all public sector operations.
Speaking after the signing, the Foreign Office Minister said:
"The agreement of a Framework for Fiscal Responsibility with the Cayman Islands Government is a strong example of the UK Government's strategy towards the Overseas Territories in action. The strategy aims to help territories strengthen public financial management and economic planning and this Framework is a clear sign of the Cayman Island Government's commitment to those goals. I am sure this development, and returning the public finances of the Caymans Islands to a sustainable footing, will be welcomed in the Cayman Islands and internationally."
The Framework for Fiscal Responsibility sets out a range of measures to strengthen public financial management in the Cayman Islands. The provisions of the Framework will be reflected in a revision of the Cayman Islands Public Management and Finance Law which will enter into force by July 2012.
The Cayman Islands Government and the UK Government are agreed that immediate compliance with the limits on public borrowing specified in the framework cannot reasonably be achieved. The Framework therefore provides for full compliance to be achieved by the end of 2015-16.
Published 23 November 2011