Foreign Office advise fans to be on the ball at the Rugby World Cup
Rugby fans are being warned to take extra care on the roads during the Rugby World Cup as statistics show New Zealand has more than twice the number of road crash fatalities per 100,000 people as the UK.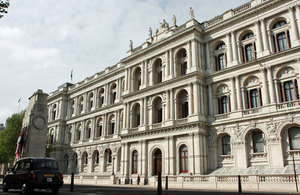 The Foreign Office has provided the following tips for driving in New Zealand:
prepare for long distance between service stations in rural areas
take care when driving at night: outside of towns there is little street lighting. Also look out for livestock wandering onto roads
do not drink alcohol before driving in New Zealand. Drinking and driving laws are strictly enforced and random breathalyzer tests will be carried out, including routes from international airports
In New Zealand an amber traffic light means STOP and the right of way rules are different from other countries. Read a copy of the Road Code (the official guide to traffic rules and traffic safety) before driving.
be sure to check with your insurance company that you're fully covered to drive abroad including breakdown recovery and any medical expenses resulting from an accident
you can send updates about your location and travel movements via your mobile in NZ by texting 7233 (SAFE). These details are kept on a central database which can be accessed by NZ Police if necessary
listen to the games on the move! Radio Sport will be the official broadcaster of the Rugby World Cup - for local frequency check the website
Minister for Consular Affairs Jeremy Browne said:
"The English, Scottish and Welsh teams are busy preparing to ensure they are in ideal shape to take on the best in world rugby. British supporters should prepare for their trip to New Zealand in the same way to ensure they enjoy a trouble-free Rugby World Cup. Whether fans are planning on taking part in adrenalin sports or hiring a vehicle for a road trip, I strongly recommend that they check the small print of their travel insurance to ensure they are covered for everything they want to do. And people driving long distances should plan their journey carefully, including regular breaks, to avoid accidents."
The Foreign Office has been working with the Rugby Football Union, the Scottish Rugby Union and the Welsh Rugby Union to help encourage fans to be fully prepared so they can enjoy the tournament as much as possible. Travel advice is available at airports as well through a number of travel companies and other FCO partners.
Welsh rugby coach Warren Gatland, who is from New Zealand, is well aware of the support his team will have during the tournament. He said:
"As always, Wales will have strong support in the stands, particularly in Wellington for our first match. Let's hope that the fans enjoy their time here and go home with great memories of rugby rather than huge medical bills. New Zealand is a beautiful but vast country - it's really easy to underestimate how long journeys can take so I'd encourage people to allow plenty of time to get to matches so you don't miss a minute of the rugby or take risks on the roads!"
Published 31 August 2011