Foreign and Commonwealth Office publishes draft Turks and Caicos Islands Constitution
The Foreign and Commonwealth Office has today published a draft Constitution for consultation throughout the Turks and Caicos Islands.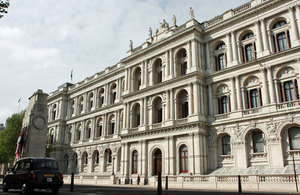 The draft Constitution has been prepared as part of the constitutional and electoral reform process in TCI which was announced in 2009 following the suspension of parts of the 2006 Constitution.
The process included the work of constitutional and electoral reform adviser, Kate Sullivan, who consulted widely throughout the Islands and published two rounds of recommendations in 2010. The FCO has now received Ms Sullivan's final recommendations which are also published today.
Minister for the Overseas Territories, Henry Bellingham, said:
"I am pleased that the people of the Turks and Caicos Islands will now have the opportunity to consider a draft Constitution. The draft Constitution contains measures to embed good governance and sound public financial management firmly in the Turks and Caicos Islands."
"A team of FCO representatives will hold meetings soon to give people an opportunity to discuss the proposed changes. The team will also meet community groups and leaders. I encourage all interested persons in the Islands to participate in these meetings, which will inform our final decisions on the Constitution."
The draft Constitution published today is based on the text of the 2006 Constitution. It reflects Ms Sullivan's recommendations, and those of the Commission of Inquiry. The draft Constitution also incorporates amendments that reflect wider FCO policy with regard to the overseas territories and good constitutional practice from other territories. The draft is accompanied by a commentary explaining the origin of the main changes proposed.
The implementation of a new Turks and Caicos Islands Constitution Order, in support of recommendations of the Commission of Inquiry, will enable significant progress to be made against some of the milestones detailed in Mr Bellingham's Written Ministerial Statement of 9 December 2010.
The period for consultation on the draft Constitution will end on 3 May 2011. During this period, in addition to the consultation events that will be held across the Islands by the FCO representatives, it is hoped that other public meetings will be organised in-territory to give people as much chance as possible to express their views.
Written responses to the consultation can be sent to the Governor's Office, Waterloo, Grand Turk, TCI or by email to: TCIDraft.Constitution@fco.gov.uk
Published 8 March 2011