Foreign affairs set out in Programme for Government
Prime Minister David Cameron and Deputy Prime Minister Nick Clegg have today launched the Programme for Government, including their approach to foreign affairs and Europe.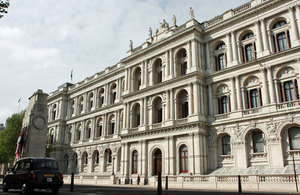 The document, described as 'historic' by the Prime Minister and the Deputy Prime Minister, details the key agreements between the two governing parties across more than thirty policy areas creating a Programme for Government.
On the European Union, the government has committed to playing a leading role in an enlarged European Union, but that no further powers should be transferred from the UK without a referendum. The approach is designed to strike a balance between engaging constructively with the EU on the challenges of the 21st Century, including climate change, competitiveness and poverty, and protecting the UK's national sovereignty.
On the wider foreign affairs agenda, the programme sets out Britain's role as an active member of the global community, promoting the UK's national interests while standing up for the values of freedom, fairness and responsibility.
The government has agreed that this means working as a constructive member of the United Nations, NATO and other multilateral organisations including the Commonwealth, working to promote stability and security, and pushing for reform of global institutions to ensure that they reflect the modern world.
For full details see The Coalition: our programme for government.
Published 20 May 2010