News story
Foreign Affairs Committee visit the Foreign and Commonwealth Office
Foreign Affairs Committee visit the refurbished Foreign Office crisis centre and new language centre.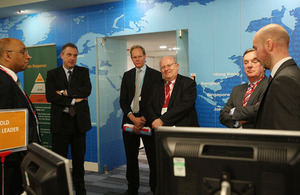 Ahead of the Foreign Affairs Committee (FAC) enquiry into the Foreign and Commonwealth Offices (FCO) Consular services later this month, Matthew Rycroft, the FCO's Chief Operating Officer, hosted an FAC visit to the newly refurbished Crisis Centre on 7 January 2014.
Since January 2012, the FCO has responded to a total of 26 crises including the typhoon in the Philippines, the events of the Arab Spring, the terrorist attack in Nairobi and most recently the evacuation of British nationals from South Sudan.
The visit allowed the FAC to see firsthand the improvements which the FCO has introduced to its crisis response over the past two years to deliver the best possible service to British Nationals. The major changes to the FCO's response have included:
A refurbished Crisis Centre able to deal with multiple crises simultaneously, handle high volumes of calls and accommodate colleagues from other Whitehall departments to coordinate our response.
Improved use of technology and communication tools for messaging British Nationals before and during a crisis. This includes a new crisis IT system, designed to make it easier for members of the public to ask for help and for our crisis teams to share information and prioritise cases.
Risk-based crisis management plans for each of our posts overseas.
Expanded crisis training and exercising capability, to improve the FCO's crisis response across our global network and to increase preparedness at even the most high-risk posts.
Increased number of staff in Crisis Management Department, with trained crisis volunteers on call to provide additional capacity where required.
Clearer decision making structures, based on the Gold-Silver-Bronze crisis response system used by emergency services.
Closer links with other key organisations involved in our response to crises, including private sector companies, chartering companies, maritime agencies and other government departments.
When not responding to a crisis, the Crisis Management Department (CMD), focuses on planning for future crises and learning from previous experiences so they are prepared for any situation.
Whilst at the FCO, the FAC also took the opportunity to visit the language centre which has been open for four months and is proving to be a great success. The language centre is currently used by over 300 students each week including 88 full-time FCO language students and students from other government departments. There are currently 42 languages being taught fulltime in the modern multi-media centre and library. More than 400 FCO staff members are currently taking lunchtime or after work classes in 12 languages including Mandarin, Arabic, Russian, French and Portuguese in addition to over 1400 Rosetta Stone users undertaking e-learning in 28 different languages.
Further information
Read about the Foreign Office Crisis Response IT system
Find out more about the new FCO Crisis Centre
More information on the 2013-2016 Consular Strategy
Foreign Office support for British nationals overseas
Follow the Foreign Office on twitter @foreignoffice
Follow the Foreign Office on facebook and Google+
Published 7 January 2014