Foreign Secretary launches new FCO Crisis Centre
The new Crisis Centre has been created to ensure the Foreign Office continues to provide one of the most complete and advanced consular services in the world.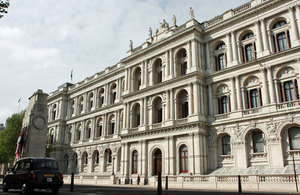 During early 2011, the Foreign Office experienced a series of international incidents that required a crisis response, including the earthquake in New Zealand, tsunami in Japan and the events of the Arab Spring.
After the evacuation of British Nationals from Libya last year, the Foreign Secretary launched a review to learn lessons from this period and refine the approach to crisis management. Following the launch of the new Crisis Centre, the Foreign Office is now better equipped to cope with the significant demands that such events place on it, and offer the best possible service to British nationals in trouble overseas. Read the Foreign Secretary's speech at the launch of the Crisis Centre.
Speaking at the launch, the Foreign Secretary said:
"With this new Crisis Centre, for the first time we will be able handle two large scale events simultaneously; operating a centralised command structure, bringing different departments from across Government into a single place, with the right technology available, so that we can help those in trouble overseas.
"The launch of the Crisis Centre today is another step in a cycle of continuous improvement in the way that we deliver our services to the British public. With increasing numbers of British nationals living, working and travelling abroad, and to a more and more diverse range of places, we need to ensure that we are innovative and make the most of emerging tools of communication, such as Twitter and Facebook, so that we can reach and help as many people as possible in a crisis.
"In the last year alone, these new approaches and our new capacity has been tested no fewer than thirteen times, including evacuating our diplomats and their families from Tehran, helping those involved in the sinking of the Costa Concordia and dealing with the coach crash in France earlier this year. They are proving to be flexible and resilient. I hope that we can continue to improve the services and support that we provide, supporting the public when they need us and moving towards our objective of becoming the best diplomatic service in the world."
Published 16 October 2012