Forces LGBT networking site wins European Diversity Award
The inaugural European Diversity Awards were held in London on 22 September 2011 and served to highlight some of Europe's highest achievers …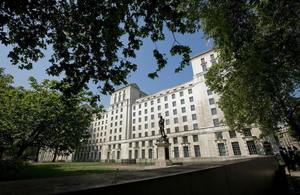 The inaugural European Diversity Awards were held in London on 22 September 2011 and served to highlight some of Europe's highest achievers in the field of equality, diversity and inclusion.
Sponsored by Google and hosted by the BBC's Jane Hill, attendees at the awards ceremony included Minister for Equalities Lynne Featherstone MP, Ben Bradshaw MP, and Michael Cashman MEP.
On the day of the awards over 350 people came together to recognise and celebrate the efforts of individuals, organisations and employers who have helped make vast improvements to the lives of the diverse communities of people across Europe. From grass roots campaigners to large corporations, the awards highlighted the exceptional achievements made in this area.
Over 250 nominations were received for the awards and the judging panel was greatly impressed by the very high standard of work being put forward. In this competitive field the tri-Service Proud2Serve e-network was given the Outstanding Employee Network Group of the Year Award.
In 2005, five years after the European Court of Human Rights ruling which resulted in the ban on lesbian, gay and bisexual people in the military being lifted, the website was established on a voluntary, unfunded basis. For the site's initial members, it was an informal communication route outside the military.
The confidentiality that this afforded was, and remains, critically important to many serving personnel. The website has matured in membership and usage, provides vital, relevant support to users, and is now endorsed and funded by all three Services. Users can contact other serving personnel, seek advice and be guided to the Service LGBT Forums or the Service Equality, Diversity and Inclusion Teams. The network now reaches out to 1,500 registered users in over 22 countries.
Also shortlisted in the European Diversity Champion of the Year category was Lieutenant Commander Mandy McBain. Although not a winner, she was thrilled that her contribution to equality, diversity and inclusion in the Naval Service had been recognised by her nomination and subsequent shortlisting.
The event was attended by ten Navy, Army and RAF personnel from both the LGBT Forums and the related policy areas.
Commodore Paul Bennett, Director Naval Personnel Strategy, said that he was delighted by the way in which Proud2Serve had matured, and that it now provides vital support for both serving LGBT personnel and their line managers.
Published 28 September 2011