Forces flag-raisers prepare for Olympics duties
Personnel from all three Services are preparing for their duties as flag-raisers during the 100 Team Welcome and 805 Victory Ceremonies due to take place over the course of the 2012 Olympic and Paralympic Games.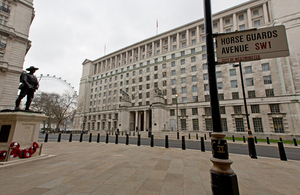 Individuals from the Royal Navy, Army and Royal Air Force will take on the role of flag-raisers, and training for this prestigious honour is currently taking place at HMS Collingwood in Fareham, Hampshire.
Personnel are being refreshed in basic drill and trained in the art of ceremonial flag-raising. They are also undergoing rigorous dress inspections to ensure they will be turned out in their ceremonial day uniforms to the highest standard.
Heading up the ceremonial team responsible for the training is Lieutenant Commander Jon Glass. He said:
Flags are a major part of naval tradition. It is an honour to be responsible for the training of the military flag-raisers for this once-in-a-lifetime opportunity.

The professionalism of our Armed Forces will be showcased in front of an international audience who will witness both the London 2012 Olympic and Paralympic Games.
Lord Coe, London Organising Committee of the Olympic and Paralympic Games Chair, said:
The flag-raising duties at Olympic and Paralympic Games are seen as an honour, but we are in fact honoured to have these inspirational men and women be part of London 2012.
In total 176 Service personnel will raise flags during the Games period, and have been selected by their Service because they have a sporting connection, have shone on operations or have strong links within their communities.
One of those selected is Flight Lieutenant Rachel Cadman from RAF Cranwell who was RAF Sportswoman of the Year in 2011, achieving this accolade through being the first woman to cross the finish line of the gruelling Enduroman Arch to Arc triathlon that year. She said:
It is a huge honour to have been chosen to be a flag-raiser and I am very excited about taking part. Through my own achievements I am now working with Lincolnshire County Council as a sports ambassador, going into schools to encourage children to set themselves goals and helping them see that through determination and hard work they really can achieve them. I hope I am inspiring the future generation to reach their potential.
Please tell us what you think about government news on the web by filling in the short survey at Related Links.
Published 5 July 2012