Forced Marriage and learning disability: new guidelines to help prevent abuse
New guidance to prevent people with learning disabilities being victims of forced marriage has been launched by the Foreign Office's Forced Marriage Unit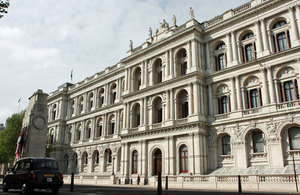 To mark the International Day for Persons with Disabilities, new guidance to prevent people with learning disabilities being victims of forced marriage has been launched by the Forced Marriage Unit.
Forced Marriage and Learning Disabilities: Multi-Agency Practice Guidelines is aimed at frontline workers and have been produced to help raise awareness of the issue, and support practitioners to identify the warning signs of this complex and often hidden practice. The guidelines also set out the steps that practitioners should take when dealing with cases.
The guidance was developed in conjunction with learning disability charities the Ann Craft Trust and the Judith Trust.
You can find more information on forced marriage here, including guideance for professionals working with people at risk of forced marriage.
Published 3 December 2010