World news story
For Singaporeans: Apply 2014/15 Chevening Scholarships by 15 Nov
We welcome applications for the 2014/15 Chevening Scholarships programme. The deadline for Singaporeans is 15 November 2013.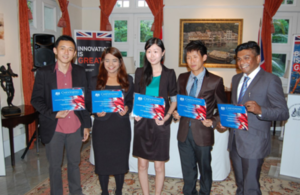 Chevening is the UK's most prestigious scholarship scheme for foreign students and offers the opportunity for talented individuals to pursue postgraduate studies in the UK. Chevening scholarships are awarded for one-year Master Degrees at United Kingdom universities.
The Scholarships not only offer financial support to study for a Master's degree at the UK's leading universities, but the opportunity to become part of an influential and highly regarded global network. We aim to attract talented professionals who are potential future leaders, decision-makers and opinion formers.
Singaporean scholars include writers and broadcasters, technical experts, researchers and lecturers, opinions formers, performers and record-breakers. The 2013/2014 Chevening Scholars were:
Mr Karthigayan Ramakrishnan, who survived 3rd degree burns on 45% of his body during an accident whilst a National Serviceman to become a volunteer with the Singapore General Hospital Burns Support group and a successfully fundraiser, Ms Hetty Musfirah Abdul Khamid a Senior Reporter with Channel NewsAsia, Mr Teo Cheng Wee is a Regional Correspondent with the Straits Times newspaper, Mr Zhuang Kuan Song of for the Centre for Enabled Living and Ms Ang Chye Peng of the Energy Efficiency and Conservative Department of the National Environment Agency.
To apply for Chevening, you need to have a degree and be able to show that that you are a leader or a future leader in your field of interest.
Published 31 October 2013