World news story
Football Remembers: Tokyo marks centenary of 1914 Christmas Truce
British Embassy Football Club and partners hold international game as Tokyo joins global events to remember Christmas Truce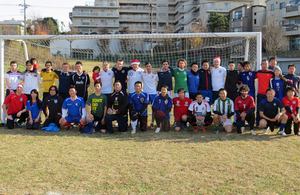 The British Council, Premier League, the FA and the Football League are staging a special 'Football Remembers Week' from 6-14 December. During this week staff at British Embassies, High Commissions and Consulates around the world are marking the 100th anniversary of the First World War Christmas Truce by hosting a series of commemorative football matches to remember the famous 1914 game, promote international reconciliation and celebrate the human spirit over adversity.
In Tokyo, the British Embassy Football Club and friends from the international community took part in a commemorative game held at NSK's Saginuma sports field on Sunday 7 December 2014.
Speaking before the kick-off, Richard Oppenheim, President of the British Embassy Football club and Head of Climate Change and Energy at the British Embassy Tokyo said:
In the Christmas of 1914, in the middle of trench warfare on the Western Front in Northern France and Belgium, British and German troops put down their weapons and called truces across much of the frontline. During this Christmas Truce, several football matches took place in no-man's land, involving up to 200 soldiers each time. The trenches they fought from were so close to each other, the men could shout to each other. Here is part of an account of what happened in one part of the frontline by former British Soldier Ernie Williams:
The ball appeared from somewhere, I don't know where, but it came from their side. They made up some goals and one fellow went in goal and then it was just a general kickabout. I should think there were about a couple of hundred taking part. Everybody seemed to be enjoying themselves. There was no sort of ill-will between us. There was no referee, and no score.
We wanted today to have as many different countries playing in national kits as possible, to celebrate international solidarity, friendship and peace through football – and through sport. So it's fantastic to see so many different nationalities represented here.
More than 30 players of 9 nationalities took part and posed for a group photo in their national kits before the games began. British Embassy Tokyo would like to thank all those who took part in this special event, including NSK who kindly provided their sports ground.
The embassy will also hold a staff football match later this week, to be featured on the 'Football Remembers' website, where you can see other events being held around the world.
Related links:
British Embassy Football Club website
World War 1 football match remembered at UK Embassies
Published 8 December 2014