Football legend honours soldiers back from Afghanistan
Soldiers from 32 Regiment Royal Artillery were hailed as heroes for their work in Afghanistan by one of the players in England's 1966 football World Cup-winning team, Geoff Hurst.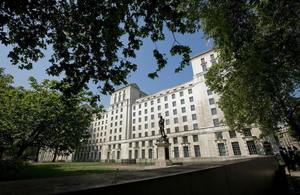 Sir Geoff praised the troops from 43 Battery (Lloyd's Company), based at Larkhill in Wiltshire, as he presented them with their Operational Service Medals on Friday 17 June 2011, with families and friends in attendance.
The presentation followed their return last month from a successful but intense and challenging six-month deployment. Sir Geoff said:
You get asked to do a lot of things every day of the week and this is simply a great honour and a privilege to be asked to do it, and the first time for me. I think everyone I presented a medal to today is a hero to spend six months away from their families in very demanding conditions and knowing sometimes they will not come home.
The families actually go through more of the traumas than the husbands, wives and partners that are out there. It is the same in football when you are on the field kicking the football, it is what you do for a living, you get on with it, but families and friends are sitting in the stands watching the big games as it is quite traumatic for them. You have to pay tribute to the wives and kids and it is lovely to meet them all.
I was presented with a book about the values of the Army - dedication, discipline and teamwork were key notes in it and which were exactly the same as the values we had in our time, and there is no difference at all between a team of people going to Afghanistan working together and that is absolutely as vitally important as it is for a team on the football field. I always say team stands for 'together everyone achieves more'.
The task of 43 Battery was to fly the Hermes 450 Unmanned Air System (UAS) day and night. This 'spy in the sky' delivered a unique, precise and technological bird's-eye view of what was going on around the area of operations for 16 Air Assault Brigade, delivering real-time video to various locations within Helmand province.
Speaking about the use of the Hermes in Afghanistan, Battery Commander Major James Palmer said:
I think it makes a tremendous amount of difference to the troops on the ground. Obviously a lot of my soldiers were rear-based and not themselves in the line of danger, but they were able to provide a lot of support to those that were.
I think knowing there was something flying overhead that can provide extra information and support was invaluable to the guys on the ground. They let us know the information helped them with planning their tasks or in the execution of jobs ongoing.
I think when you finish the day and you have provided a piece of information that has helped someone else's plans to either go somewhere or not go somewhere, that results in effective engagement or prevents our troops going into a danger area, that is a very rewarding part of the job.
We were really pleased to get Sir Geoff Hurst along to give the medals. It means a lot to the guys to come back from Afghanistan and get their medals from a legend, which is ideal, and really made the day special for them and their families.
32 Regiment Royal Artillery has been based in the Wiltshire area for the past 16 years and is one of only two UAS regiments in the British Army. It has had a battery permanently based in Afghanistan/Iraq since the beginning of the conflicts.
Published 20 June 2011