Football ground arrests fall
Arrests for football-related trouble fell by 10 per cent last season, Home Office Minister James Brokenshire announced today.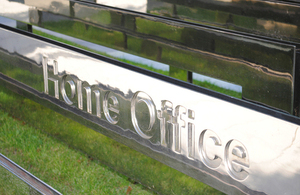 Figures out today show there were no arrests at this year's World Cup tournament in South Africa.
During the 2009/10 season, 3,391 people were arrested. This is a fall of 395 year on year and equates to an average of one arrest per match.
Numbers for the 2009/10 football season cover arrests of English or Welsh fans at all international and domestic games. There were no arrests at 70 per cent of games.
'No football-related arrests at the World Cup'
Crime prevention minister James Brokenshire said: 'The contrast between South Africa 2010 and Euro 2000 could not be greater - no football-related arrests at the World Cup compared to nearly 950 hooligans being expelled from Belgium in one night.
 
'There are many factors behind this and the greatest credit must go to the fans. But I want to see them continue to build on that good behaviour. We must also applaud the work of police in making football a safer environment for all.
'Nobody is complacent though, police will continue to work with fans and use all the tools at their disposal to ensure that we continue setting a benchmark for the world.'
Published 1 December 2010