Fond farewell to HMS Manchester
The end of HMS Manchester's 30-year Royal Navy career was officially marked in a formal ceremony at Portsmouth Naval Base last week.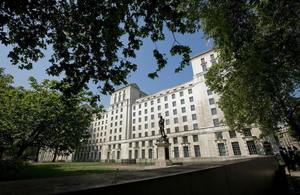 The Type 42 destroyer - a veteran of the first Gulf War - has clocked up over 860,000 nautical miles (1.6 million kilometres) in operations across the world. She is being decommissioned as the ageing fleet of Type 42s makes way for the new, highly-capable Type 45 destroyers.
The decommissioning service was conducted by a former chaplain of HMS Manchester, Father Mike Wagstaff, with musical accompaniment provided by the Royal Marines School of Music.
The Commanding Officer of HMS Manchester, Commander Rex Cox, said:
It is with mixed emotions that we approach HMS Manchester's decommissioning. On the one hand there is sadness at the retirement of a very special ship that has made an impression on everyone who has had the good fortune to serve on her.
On the other hand there is great pride in a destroyer that has served the Navy with distinction and is now ready to pass on the baton to the next generation - the Type 45s. "It is the people however that have made this great ship what she is and each and every one of them has made their contribution over the years. It has been an immense privilege and enormous fun to be the last Commanding Officer of the 'Busy Bee' and to command such a cracking ship's company.
Guests of honour at the ceremony included the Lord Mayor of Manchester, Councillor Mark Hackett, and Rear Admiral Mark Anderson, Commander Maritime Operations.
HMS Manchester was built by Vickers Shipbuilding Group at Barrow-in-Furness, Cumbria, was launched on 24 November 1980, and commissioned into the Royal Navy on 16 December 1982.
Her first 'action' was a major NATO exercise off north west Scotland and soon after she escorted Her Majesty The Queen in the Royal Yacht Britannia on a tour of the Western Isles of Scotland. In 1991 she played a key role in Operation Desert Storm in the Gulf. Along with other allied ships, Manchester provided an air defence umbrella to cover the land offensive into Kuwait. On cessation of hostilities the ship resumed patrols in the Gulf, supporting mine clearance operations and providing post-war reassurance to merchant shipping.
In 2002 while on patrol in the North Atlantic the ship saved the lives of 11 people after their 148-foot (45-metre) cruiser Shiralee sank in the Caribbean.
Towards the end of 2007 Manchester worked closely with the giant US aircraft carrier Harry S Truman off America's eastern coast. The ships were part of a carrier strike group during the two-week Exercise Bold Step.
In December last year Manchester returned from her last deployment, a seven-month stint in the North Atlantic, and earlier this month the ship sailed to Liverpool so her ship's company could pay a farewell visit to her affiliated city of Manchester.
Published 28 February 2011